Hungarian Visa-Applicant: US Consul in Budapest Humiliated Me
Hungarian visa applicant at the US Embassy received the visa but in the process she has been humiliated, being subject of tricky questions asked by an embassy official. Others have similar complains. The officials aim at filtering out those applicants who might not leave the United States once their visa expires. There is much at stake: if the rate of rejected visa goes under 10 percent, US Visa-Waiver Program mayl also include Hungary. Last year the rate was 12 percent and it has declined steadily in recent years.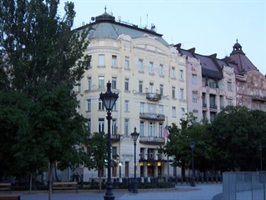 U.S. Embassy, Budapest
One recent applicant who finally received her visa told a story of humiliation and abuse during the process of long and torturous grilling. She works in the Archive of the Budapest based Central European University, established by the American billionaire and philanthropist, George Soros.
At Window no.3, the Consul asked her why she wanted to go to the U.S. She explained, to exchange experience, as the CEU Archive is about to digitalize various audiovisual stuff. The reaction was rude. "You work in an archive? Who wants to archive those dismal TV shows and cartoons? Anyway, it's beyond reasoning why they spend taxpayers' money on archiving programs that nobody is interested in." - the Consul exploded, and went on: "It's unbelievable that the CEU is spending money to preserve old photos, old nonsense, TV rubbish, spending money on sending people here and there, instead of helping Africans by sending aid."
"I don't archive cartoons and TV shows," she replied. He couldn't care less: "Whatever you preserve, what for?" "To preserve the present for the future," she answered, thinking that finally that Q and A session was over. But not so!. While her fingerprint was being scanned, the consul continued speaking his mind. "Instead of collecting useful information like fingerprints, they spent money on crappy TV shows,"
The consul finally placed a stamp in her passport and turned to her: "You think I was being serious?" Her reaction seemed to seal her fate: "No, I suspected you were trying to confuse me. Those questions, by the way, were not really appropriate."
"What?" he said, leaning towards the window. "You want me to cancel your visa application? How dare you criticize the way I work? How dare you question what I'm doing?" He tore the passport out of her hand, ripped the sticker off, took back the application form and crossed everything out. "I'm cancelling your visa," he said. "You're not traveling," came the verdict.
She became desperate. A woman-employee finally approached her, trying to calm her down, claiming it was all "miscommunication". - You don't know the system, you don't know what they're asking, and why. You will get the visa, just go back to the Consul and tell him you're sorry, and 'thank him for approving your application,"- the woman advised. She did so.  Yet, the Consul continued the dress-down: "As an archaeologist (sic!), you have no right to question me or my working practices. That's unacceptable." Then he suddenly changed course: "OK, I'll give you a 10-year visa". And duly she received her visa next day .
Happy end? Not exactly. The Consul was allowed to play a cat and mouse game for no reason, probing the will and strength of an innocent visa-applicant. Her case is not a unique experience. People are complaining constantly about the unnecessary grilling and unjustified visa-rejections. Nothing justifies this kind of humiliation, abuse of power. HVG Online approached the US embassy after receiving this report.
Michael J. Hurley, Public Affairs Officer of the Embassy in Budapest has sent the following a letter to the Editor of HVG Online on July 26:
"One of the highest priorities of the U.S. Embassy is to strengthen the bonds of friendship between the U.S. and Hungary. We are eager to have Hungarians visit the United States, whether for business, pleasure or for education. We are proud of our improved record of services and fully support the efforts of President Bush to work with the Congress to change the law so that one day Hungary might join the Visa Waiver program. We deeply regret if any individual goes away from the Consular window feeling ill served. We strive to provide the best possible service to our Hungarian customers, and look for ways to improve the service."
HVG Online Editor, Richard Hirschler called the Embassy and asked Mr. Hurley, why the letter is so general and why is it not dealing with the above  particular case? Why is the Embassy not initiating an inquiry to investigate this and other cases? Mr.Hurley rejected the question, arguing that it was an internal affair of the Embassy, and "there was no witness of this particular case".