At the end of last year, Jozsef Bencze, the national police chief, announced that a list of the top 100 most wanted people would be circulated. The list includes pictures of the individuals, their age and the name of the organisation seeking their arrest. It was placed on the police website on 29 December.
There is no ranking within the top 100. Suspects are listed alphabetically, and no information is given about the crime for which they are wanted. The oldest suspect is a 71-year-old woman, Ms Rudolf Horvath, who has been sought by the Budapest 8th district police for seven years. The youngest is a 17-year-old girl called Nikoletta Nyari, whom Gyor police have been looking for since last year.
Most of the suspects are Hungarian men, though there are 13 foreigners, and there are only 11 women among them. One, the 52-year-old Ms Bela Jozsef Toth is wanted alongside her 54-year-old husband by the metropolitan correctional institute.
More than half of the people on the top 100 are sought by the prison services, although some of these escaped prisoners are also wanted for further crimes.
The police list does not say why these people are sought, although in some cases the crimes are public novel. Zoltan Szogyenyi, head of the arrests unit at national police headquarters, explained to hvg.hu that the public did not need this kind of information. "We want information about these individuals' whereabouts. We don't want people trying to arrest them temselves. Given that, it's sufficient to provide only names and faces."
Mr Szogyenyi emphasised that the aim of publishing the names of the 100 most wanted was to seek help from members of the public. "At the same time, we don't want to infringe anybody's rights," he added.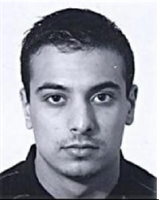 Róbert Farkas
At the same time, it is public knowledge that Robert Farkas, or 'Varju', who has been sought for years, is believed by the police to have been involved in a series of bank robberies, carrying out armed robberies in 17 banks. Two people have already been convicted. Farkas became famous after a murderous armed robbery at a bank in Mor, since police suspected he was the perpretrator. Many police officers suggest, however, that the man has not been found because he is no longer alive.
Laszlo Berente is the wanted criminal with the most arrest warrants out against him. The 35-year-old man is being sought by police in Cegled, Heves and Fejer counties, Budapest, Pest and Bacs-Kiskun counties. On the previous top 21 list, it was stated that Berente was sought on suspicion of fraud and blackmail.
There are some murder suspects on the list, though they can only be identified from earlier police statement. Tamas Janos Tomori, 29, and Istvan Kiss, 35, are two of them.
Authorities in Hungary are currently looking for 43,760 people. Arrest warrants have been issued for 6,464 of them.